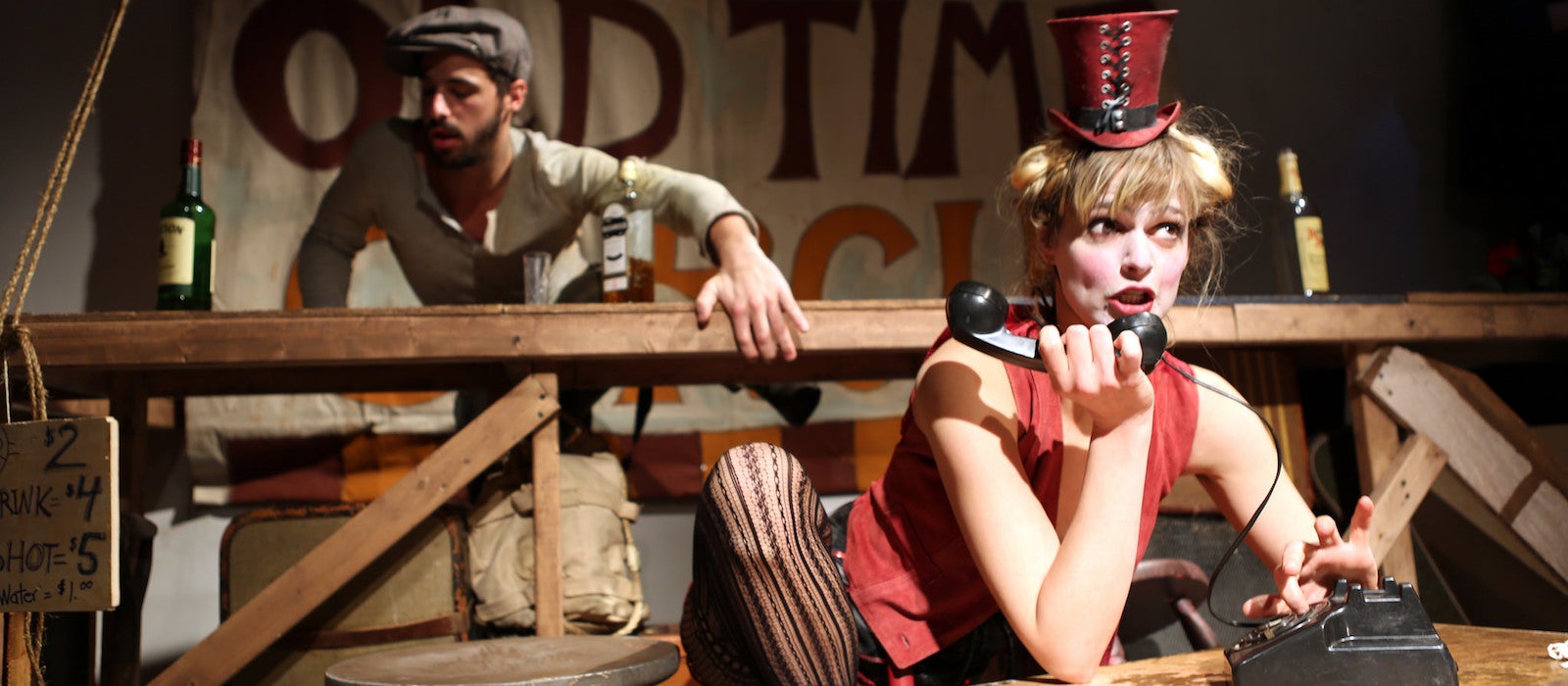 The secret inspirations of Jahn Sood's THE DISAPPEARING MAN
Wednesday |

Apr.

5

, 2017
In Jahn Sood's folk opera The Disappearing Man, times are desperate.
It's 1936, the height of the Depression, and a troupe of down-on-their-luck circus performers is hanging on by a thread at a tour stop in St. Louis. The group's star attraction, Jim the magician, is considering leaving this misfit family for a normal job. If the circus goes under, all of its performers will be left to fend for themselves on the street.
That narrative of trying to survive as a traveling entertainer comes from Sood's own experiences on tour as the guitarist for the indie rock band Ezra Furman and the Harpoons.
"We used to play some towns that were great, some that were terrible, some towns where we made money, some where we were like, 'Oh my God, how are we going to get gas?'" Sood says. "You had this feeling of, 'I know we're doing the right thing, but will we live through it?'"
The Disappearing Man, which kicks off The Rep's 2017 Ignite! Festival of New Plays with performances tonight and Thursday evening, was initially inspired by those experiences. But in its 10-plus years of development, it's accumulated a number of other cultural reference points and artistic influences.
We talked to Sood about some of the secret influences behind his script:
Dexter Fellows
"I first wrote these songs when I was on tour with Ezra Furman and the Harpoons. I read the autobiography of Dexter Fellows, who was the press agent from Barnum & Bailey before the merger with Ringling Brothers. I just found this book (This Way to the Big Show) in the bottom of a bargain bin." (Laughs)
"I was just reading it on tour and thinking, 'Oh, this is like my life.'"
Bertolt Brecht
"As I was writing these songs, I realized that the characters started talking to each other in the songs. There would be characters that popped up in three or four songs. Eventually there were 14 songs.
So I handed this record to a friend who was a theatre director. He said, 'Listen man, this is a musical. You need to write a book.'
I said, 'What's that? Like a novel?'
He said, 'No, just read this.' And he gave me a copy of Threepenny Opera. He said, 'This is a book of a musical.'
It's not every theatre person's introduction to musical theatre, but for me it was the entirety of the canon for a while."
Off Broadway
"The other secret about this show comes from the fact that this show is set in St. Louis. The first song goes, 'St. Louis, way off Broadway / St. Louis, lost between the corn.'
The secret is when I was on tour with the Harpoons, I used to play a club called Off Broadway. Which is still here. In my world, 'St. Louis, way off Broadway' is actually that place. (When) we got our first record deal, we got the phone call on the street outside that club, so it was a very important place and very symbolic of life on the road for me."
Tennessee Williams
"There's a lot of secret Glass Menagerie quotes (in The Disappearing Man). Like I borrowed the 'Franco Triumphs' newspaper. It's one prop I lifted right out of that.
But it's the exact same time and place. This kind of run-down circus might be the sort of thing that Tom (Wingfield) would have gone to after the movies, when he's drinking and bumbling around in the night."
Show director West Hyler
"This fall I started working with West, my current director, who has been here before for his show Georama.
West has directed real circuses. He's done the Big Apple Circus. He did the recent Cirque du Soleil show Paramour, which is on Broadway now. He brings this whole other thing to the table, which is what the people in the circus are like. It's not a metaphor for him; he knows this world. He knows what it's like to be up to your knees in mud outside a tent show, drinking with the clowns. And he knows all the people who can't go outside the circus, because they're such unique individuals, such specialized performers.
West can bring the actual aesthetics, performance and history of the circus. So it's been really fun collaborating with him."
---
Listen to songs from the show:
Photo from a 2014 performance of The Disappearing Man at Cloud City in Brooklyn, taken by Nicki Ishmael and Micah Joel.