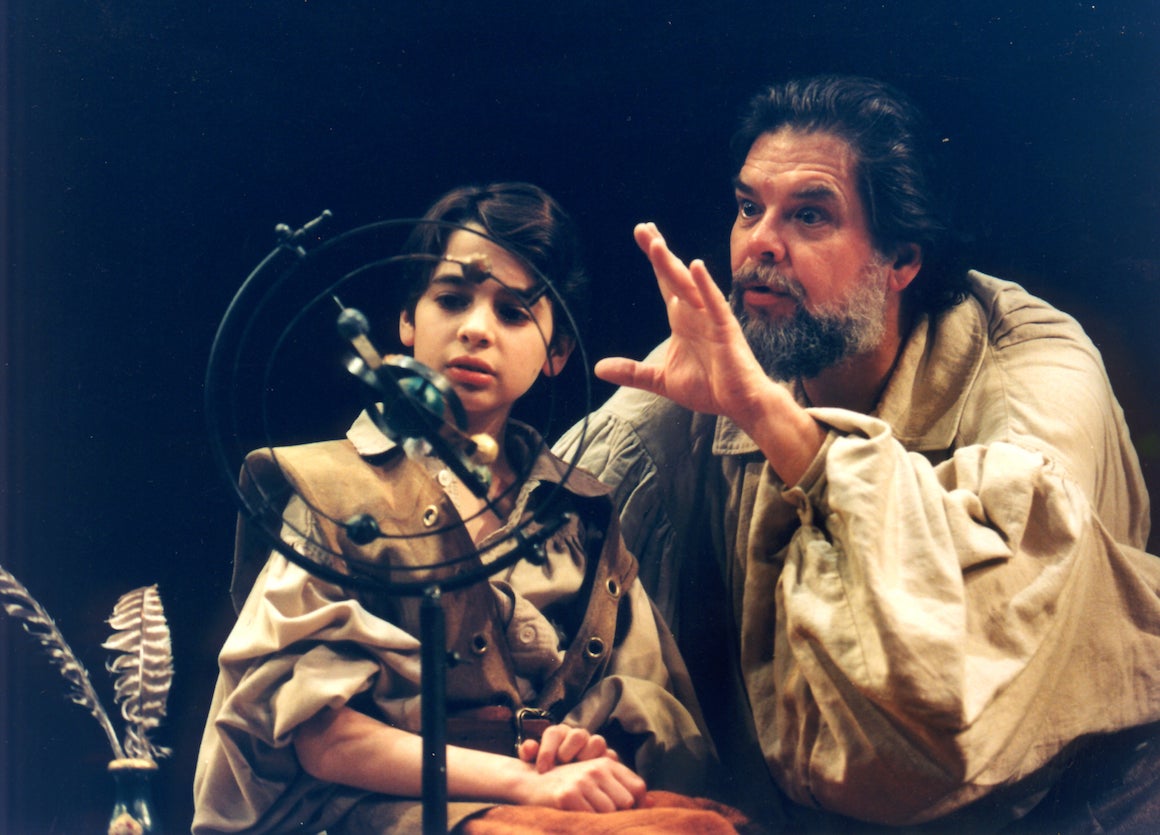 The Life of Galileo
By Bertolt Brecht
Adapted by David Hare
Directed by Steven Woolf
February
07
-
March
08
, 1996
1995-1996 Mainstage Season
The Story
Under the shadow of the Inquisition, the brilliant 17th Century Italian scientist insists earth revolves around the sun, thereby calling into question the entire foundation of Western Civilization. From the soaring heights of new discoveries to the crashing despair of human weakness, Galileo's life provides profound insight not only into the Age of Enlightenment but into our modern world as well.
Creative & Production Staff
Scenic Designer: John Ezell
Costume Designer: Dorothy Marshall Englis [credited as "Dorothy L. Marshall"]
Lighting Designer: Phil Monat [credited as "Phillip Monat"]
Stage Manager: Glenn Dunn
Assistant Stage Manager: Scott De Broux
Cast
Keith Jochim (Galileo)
Gabriel Levinson (Young Andrea)
Carol Schultz (Sarti)
Robert Fente (Ludovico)
Eric Forsythe (Chancellor/Astronomer/Bellarmin)
Joe Palmieri (Federzoni/Clavius)
Susan Ericksen (Virginia)
Drew Sobey (Young Cosimo/Singer at Ball)
Whit Reichert (Chamberlain/Vanni/Crier)
John Grassilli (Philosopher/Man)
Alan Knoll (Mathematician/Official/Monk)
Philip M. Coffield (First Monk/Peasant)
Anderson Matthews (Cardinal/Inquisitor)
Norbert Butz (Little Monk)
Michael James Reed (First Clerk/Andrea)
Richard Esvang (Barberini, later Pope Urban VIII)
Brian A. Peters (Second Monk/Guard)
Gary Glasgow (Cardinal/Duke of Tuscany)
Scott De Broux (Second Clerk)
The St. Louis Arches (Carnival Performers)
Sponsorship & Support
Major Sponsor: Monsanto Fund

The appearance of the St. Louis Arches was made possible by a grant from the St. Louis Regional Arts Commission.