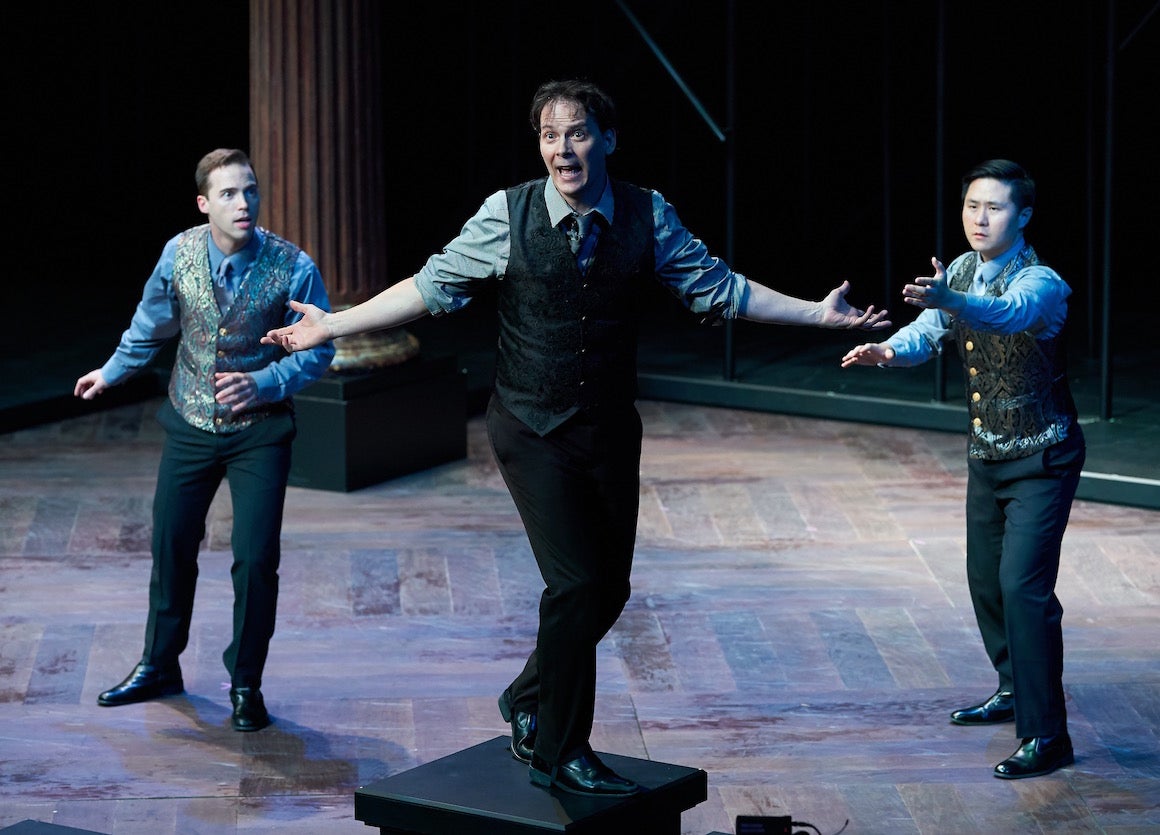 Hamlet
by William Shakespeare
Directed by Paul Mason Barnes
October
11
-
November
05
, 2017
2017-2018 Mainstage Season
The Story
Spurred on to vengeance by the ghost of his father, Prince Hamlet hovers in limbo between bloody retribution and madness. Potentially fatal indecision delays his every step. With its profound soliloquies, complexly shaded characters and brutal plotting, it's Shakespeare's most enduring tragedy.
Creative & Production Staff
Scenic Designer: Michael Ganio
Costume Designer: Dorothy Marshall Englis
Lighting Designer: Lonnie Rafael Alcaraz
Sound Designer: Barry G. Funderburg
Fight Director: Paul Dennhardt
Casting Director: Pat McCorkle / Katja Zarolinski, McCorkle Casting Ltd.
Stage Manager: Tony Dearing
Assistant Stage Manager: Dora Jane Trenbeath
Cast
Jim Poulos (Hamlet)
Michael James Reed (Claudius)
Robynn Rodriguez (Gertrude)
Larry Paulsen (Polonius)
Christopher Gerson (Horatio)
Kim Wong (Ophelia)
Carl Howell (Laertes)
Jeffrey Cummings (Ghost/Fortinbras)
Ross Cowan (Rosencrantz)
Stephen Hu (Guildenstern)
Jonathan Gillard Daly (Player King/Gravedigger)
Tarah Flanagan (Player Queen/Gravedigger)
Ben Nordstrom (Osric)
Jerry Vogel (Bernardo/Priest)
Scott James Smith (Francisco/Reynaldo/Ensemble)
Harrison Farmer (Marcellus/Ensemble)
Ben Love (Player Lucianus/Ensemble)
Noah Benjamin Cornwell (Ensemble)
Esmeralda Garza (Ensemble)
Cassandra Lopez (Ensemble)
Delaney Piggens (Ensemble)
Joshua Roach (Ensemble)
Chaunery Kingsford Tanguay (Ensemble)
Production Notes
This was the first-ever production of Hamlet at The Rep.
Sponsorship & Support
Wells Fargo Advisors
Shakespeare in American Communities – a program of the National Endowment for the Arts in partnership with Arts Midwest
St. Louis Public Radio