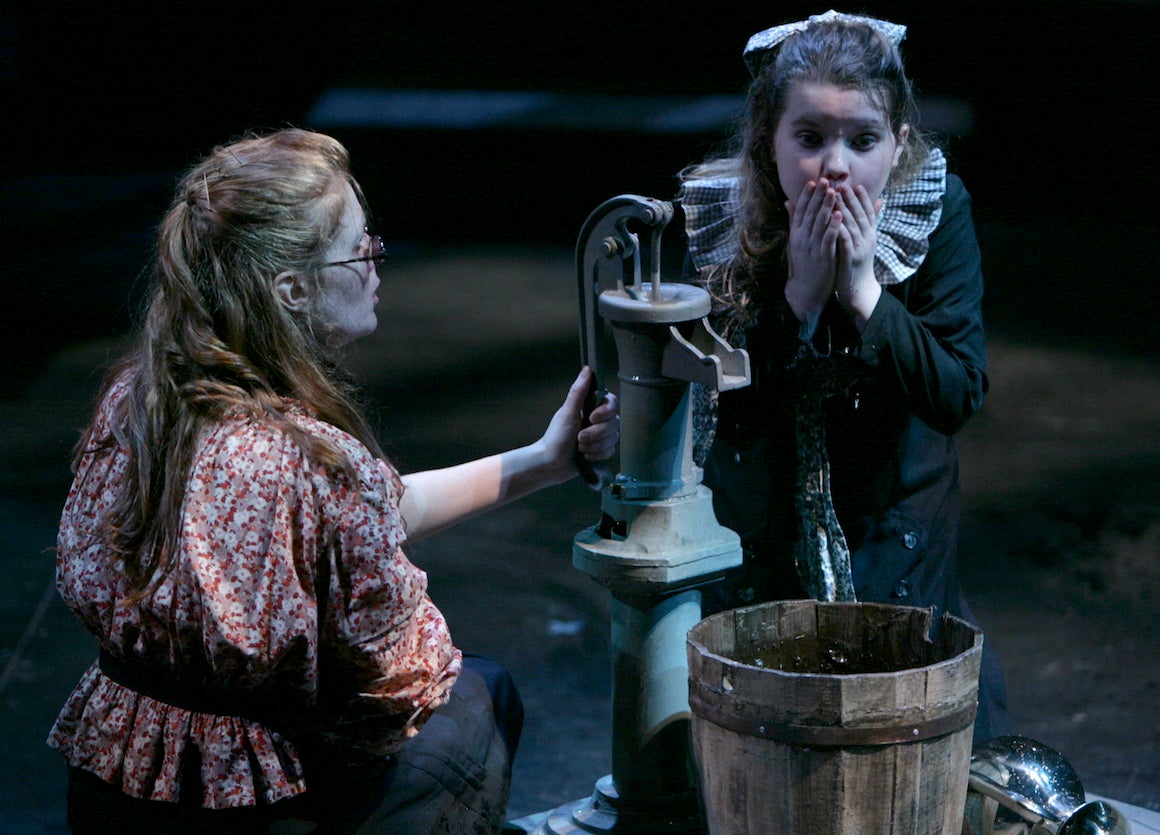 The Miracle Worker
By William Gibson
Directed by Susan Gregg
February
11
-
March
08
, 2009
2008-2009 Mainstage Season
The Story
Blind, deaf and mostly mute, six-year-old Helen Keller was pitied and coddled by her family, so spoiled that she terrorized the household with tantrums and tricks. Then Anne Sullivan arrived, barely 20 years old, holding the key that would unlock the door between Helen and the world. This Tony Award-winning play is a lyrical, profoundly moving story of courage and communication, and a testament to the powerful influence of dedicated teachers.
Creative & Production Staff
Scenic Designer: John Ezell
Costume Designer: James Scott
Lighting Designer: Michael Philippi
Sound Designer: Tom Mardikes
Stage Manager: Glenn Dunn
Assistant Stage Manager: Shannon B. Sturgis, Emily Buckheit
Casting: Rich Cole (Additional casting by Carrie Houk)
Cast
Ashlee Marnae (Martha)
Jarrett D. Harkless (Percy)
Olivia Jane Prosser (Helen)
Hannah Ryan (Helen)
Krista Hoeppner (Kate)
Matthew Carlson (James)
Donna Weinsting (Aunt Ev)
John Rensenhouse (Captain Keller)
Jerry Vogel (Mr. Anagnos)
Amy Landon (Annie)
Monica Parks (Viney)
Murray (Kellers' Dog)
Additional Credits
Assistant Director & Research Assistant: Jaime Lyn Bast
Assistant Sound Designer: Tim Brandsted
Production Assistant: Terry More
Stage Carpenter: Rick Shetley
Child Supervisor: Katie Sullivan
Stitchers: Jude Bonnot, Christy Newport, Nancy Williamson, Garth Dunbar, Russel Kohn

Special thanks to Kennelwood South County, Sarah Parlow and Tim Trentmann.
Sponsorship & Support
The Rep's Leading Ladies
Production Notes
Olivia Jane Prosser and Hannah Ryan performed the role of Helen at alternating performances of The Miracle Worker.