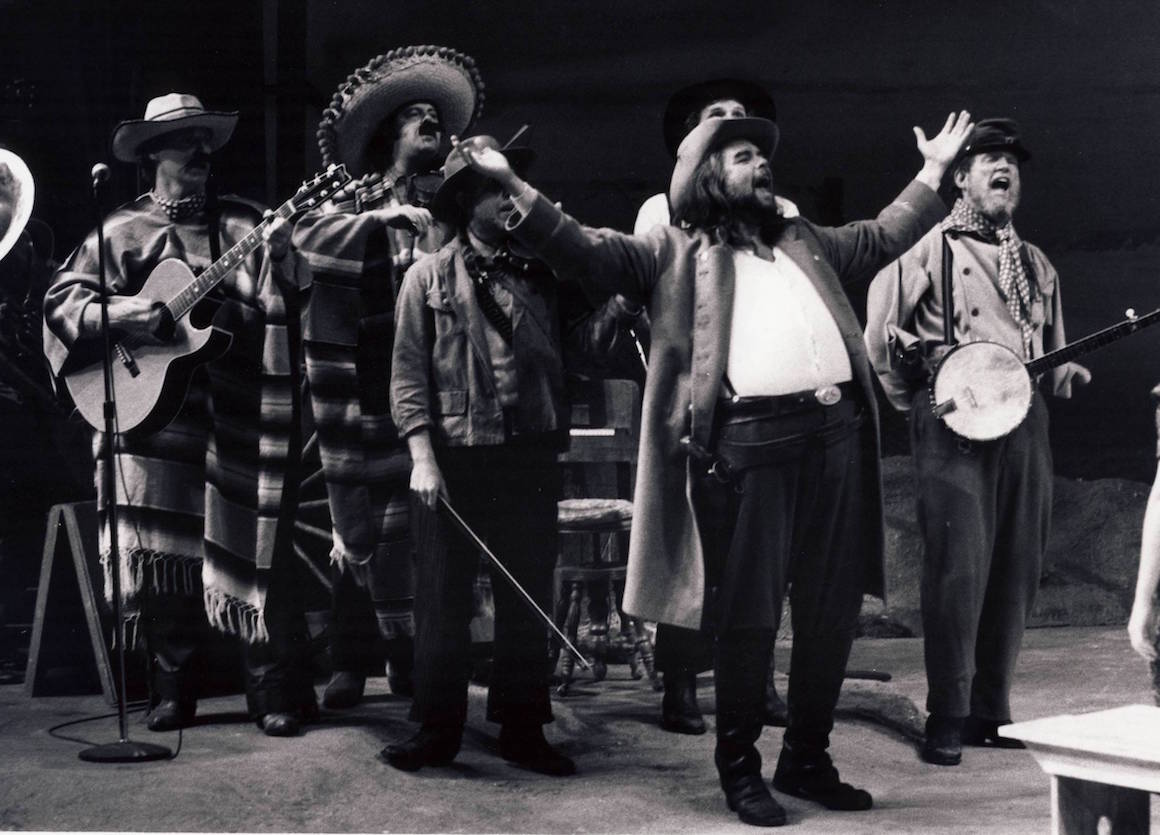 The Merry Wives of Windsor, Texas
Adapted by John L. Haber
A Western with Music Inspired by William Shakespeare
Music & Lyrics by Jack S. Herrick, Tommy Thompson, Bland Simpson, Jim Wann and John Foley
Directed by Edward Stern
September
06
-
October
06
, 1989
1989-1990 Mainstage Season
The Story
Join Big John Falstaff and his scraggly band of ex-Confederate renegades as they head for the hills and make a shambles of Windsor, Texas. Knee-slapping western music, provided by The Red Clay Ramblers themselves, catapults The Merry Wives of Windsor into the wild and wooly Texas frontier. Foot-stomping Shakespeare, western style.
Creative & Production Staff
Musical Director: Jack S. Herrick
Choreographer: Marcia Milgrom Dodge
Scenic Designer: Kevin Rupnik
Costume Designer: Candice Donnelly
Lighting Designer: Peter E. Sargent
Stage Manager: Glenn Dunn
Assistant Stage Manager: Julia P. Jones
Cast
Charles Antalosky ("Sheriff Bob" Shallow)
Ollie O'Shea (Host of the Garter Saloon and Fiddler)
Paul Ukena, Jr. (Mr. Joe Frank Ford)
Russ Jolly (Master Abraham Slender)
Noble Shropshire (Dr. Caius, a French immigrant)
William Walden (John Rugby, his Indian valet)
William Hardy (Mr. George Page)
Christopher J. Stephens (Lucas)
Bob Crowley (Chester)
Debora Jean Culpin (MissAnne Page)
Darrie Lawrence (Mrs. Margaret Anne Page)
Donna Davis (Mrs. Aggie Ford)
Glynis Bell (Mistress Quickly)
Joneal Joplin (Preacher Hugh Evans)
Jennifer Brouillard (Townsfolk)
Tracy Coe (Townsfolk)
Melissa Rye (Townsfolk)
Keith Jochim (Colonel John Falstaff)
Tommy Thompson (Private Bardolph)
Jack S. Herrick (Captain Pistol)
Clay Buckner (Corporal Nym)
Chris Frank (Robin, the orphan boy)
John Foley (Master Fenton, a yodeling cowboy)
Sponsorship & Support
Costumes for this production were underwritten by the Metropolitan Life Foundation. The appearance of Guest Actor Keith Jochim was underwritten by the Lucius B. Morse IV Shakespeare Endowment Fund.