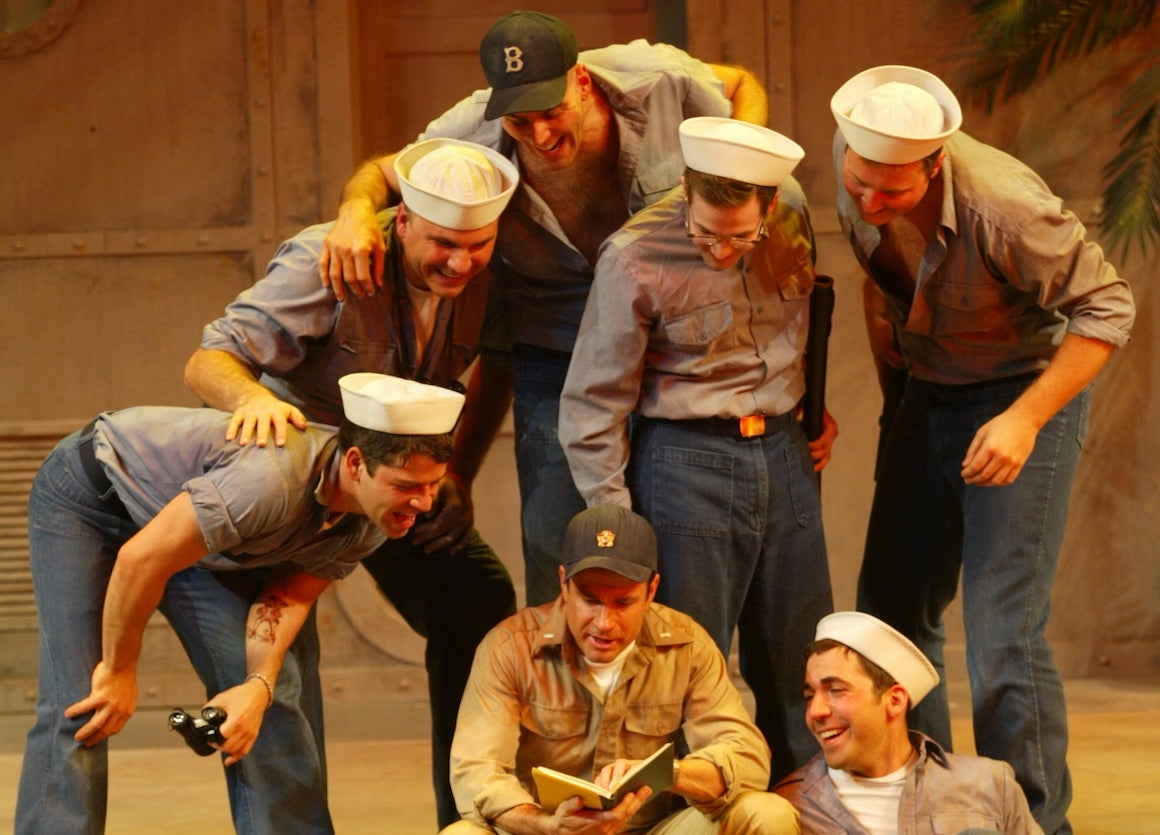 Mister Roberts
By Thomas Heggen & Joshua Logan
Directed by Edward Stern
March
17
-
April
16
, 2004
2003-2004 Mainstage Season
The Story
No shots are fired and no blood spilled aboard the Navy cargo ship AK601, where the crew fears that World War II is passing them by as they drift along in forgotten Pacific seaways. With heart and with humor, this American classic is a decent, honest tribute to men who became unexpected comrades and unlikely heroes.
Creative & Production Staff
Fight Choreographer: Drew Fracher
Scenic Designer: Paul Shortt
Costume Designer: Kristine Kearney
Lighting Designer: Peter E. Sargent
Stage Manager: Glenn Dunn
Assistant Stage Manager: Tony Dearing
Casting: Rich Cole
Cast
John Ahlin (Chief Johnson)
Bill Doyle (Lieutenant [j.g.] Roberts)
Joneal Joplin (Doc)
Gary McGurk (Dowdy)
Robert Elliott (The Captain)
Jim Holdridge (Insigna)
Mark Mineart (Mannion)
John Renfree (Lindstrom)
André Marrero (Stefanowski)
Matthew F. Morgan (Wiley)
Greg McFadden (Ensign Pulver)
Geoffrey Molloy (Dolan)
Christopher Gottschalk (Gerhart)
Cristin Mortenson (Lieutenant Ann Girard)
David Webb (Shore Patrol Officer)
Blake Anthony (Military Policeman)
Jeremy Sher (Shore Patrolman)
Michael Hammack (Sailor)
Matt Kutz (Sailor)
Jeremy Roberts (Sailor)
Percy Rodriguez (Sailor)
Sponsorship & Support
Major Sponsor: Mary Ranken Jordan and Ettie A. Jordan Charitable Foundation
The Repertory Theatre of St. Louis is grateful to Smurfit-Stone for its sponsorship of Guest Director Edward Stern and to Jean Lange for her support.
Production Notes
Mister Roberts was a co-production with the Cincinnati Playhouse in the Park.