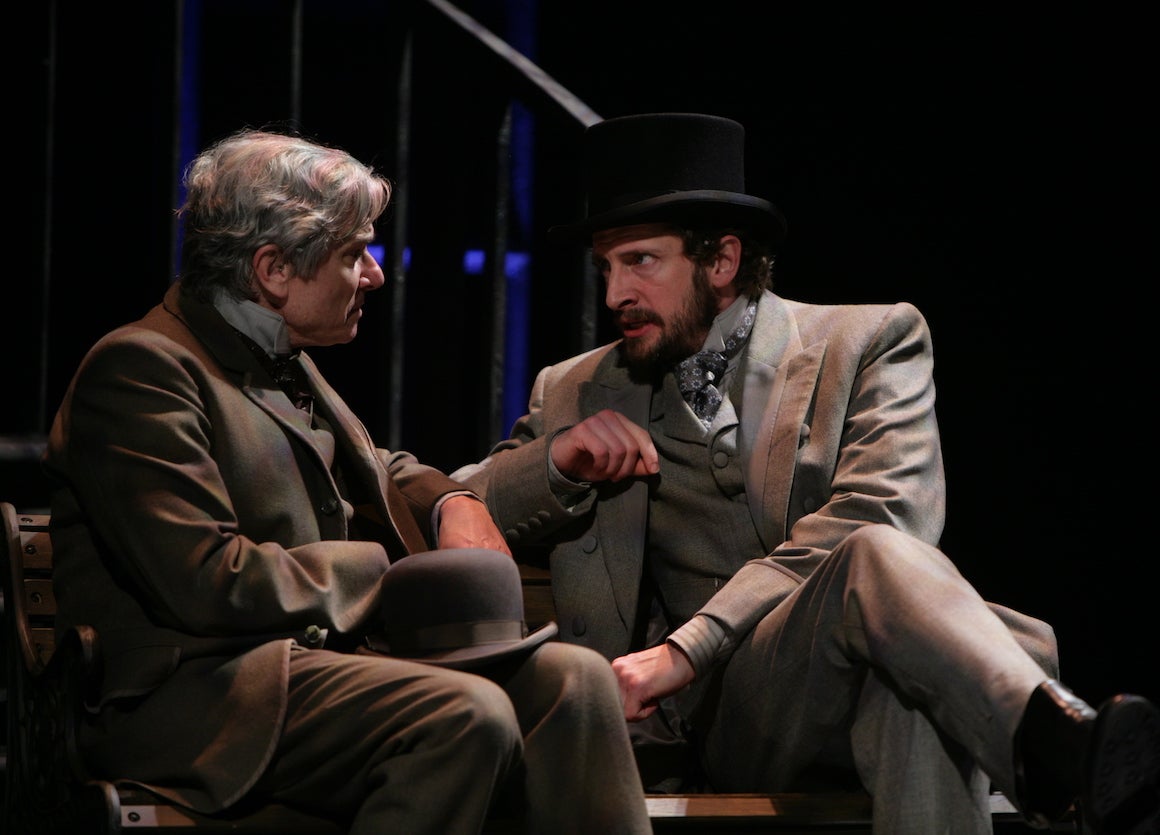 Dr. Jekyll and Mr. Hyde
Adapted by Jeffrey Hatcher
From the novella Strange Case of Dr. Jekyll and Mr. Hyde by Robert Louis Stevenson
Directed by Edward Stern
March
18
-
April
12
, 2009
2008-2009 Mainstage Season
The Story
A brutal, mysterious figure has begun to haunt the London streets, committing murder under cloak of darkness, while respected Dr. Henry Jekyll displays increasingly alarming, erratic behavior. Jekyll's friends confront the monstrous Mr. Hyde in an attempt to unlock the puzzles of this tortured soul, but only Hyde's beautiful mistress may hold the solution. Stevenson's tale of inner demons and evil unchecked is given thrilling new life in this intense, intimate and fiendishly clever adaptation.
Creative & Production Staff
Scenic Designer: Robert Mark Morgan
Costume Designer: Elizabeth Covey
Lighting Designer: Thomas C. Hase
Sound Designer: Rusty Wandall
Stage Manager: Glenn Dunn
Assistant Stage Manager: Tony Dearing
Casting: Rich Cole
Cast
Anthony Marble (Dr. Henry Jekyll)
Anderson Matthews (Edward Hyde, Gabriel Utterson)
Scott Schafer (Edward Hyde, Sir Danvers Carew, Richard Enfield, O.F. Sanderson, Inspector)
Katie Fabel (Elizabeth Jelkes)
Kyle Fabel (Edward Hyde, Dr. H.K. Lanyon, Police Doctor, Surgical Student)
Bernadette Quigley (Edward Hyde, Poole, Surgical Student, Police Doctor)
Additional Credits
Assistant Director & Research Associate: Jaime Lyn Bast
Production Assistant: Angela Moshera
Drapers: Ginny McKeever, Nina Reed
Stitchers: Jude Bonnot, Russell Kohn, Bruk Longbottom, Christine Newport, Ruth Pietz, Sonseeahray Scott, Nancy Seibert Williamson, Jeff Wunrow
Sponsorship & Support
Michelob Ultra
Production Notes
Dr. Jekyll and Mr. Hyde was a co-production with the Cincinnati Playhouse in the Park.