The Rep's Volunteer Board
The Volunteer Board (The VB) is a volunteer organization whose main purpose is to support the mission of The Repertory Theatre as an outstanding and valuable asset to the greater St. Louis community.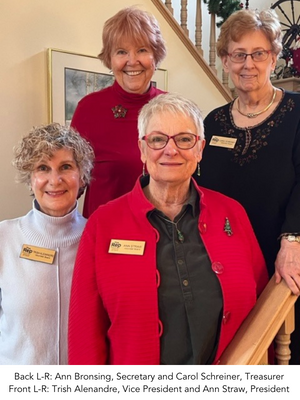 Through the leadership of the Volunteer Board, volunteers ensure that The Rep remains a vital cultural resource in our community by donating their time, talents and skills throughout all facets of the organization. Volunteers have played an essential role throughout our history, making us one of the leading regional theatres in the country.
We are a proud member organization of CAVORT (Conference About Volunteers Of Regional Theatre).
If you love theatre and have the desire to be a part of the Rep as a volunteer, fill out our volunteer form.
2022-2023 Season Volunteer Board
President: Ann Straw
Vice President: Trish Alexandre
Secretary: Ann Bronsing
Treasurer: Carol Schreiner
Immediate Past President: Laurie Hiler
Senior Members:
Susan Barley
Barbara Mennell
Members:
Trish Alexandre
Ann Bronsing
Michaeleen Cradock
Elizabeth Cobin
Dorothy Diehl
Denise Eschenbrenner
Karen Fairbank
Glenda Hares
Vicki Helling
Laurie Hiler
Marcia King
Margie Knapp
Linda Lowry
Karen Miller
Shirley Raitzsch
Colleen Ritchie
Rocky Rosen
Helen Sandifer
Cindy Schnabel
Carol Schreiner
Ann Straw
Linda Vandivort
Lynn Yearwood