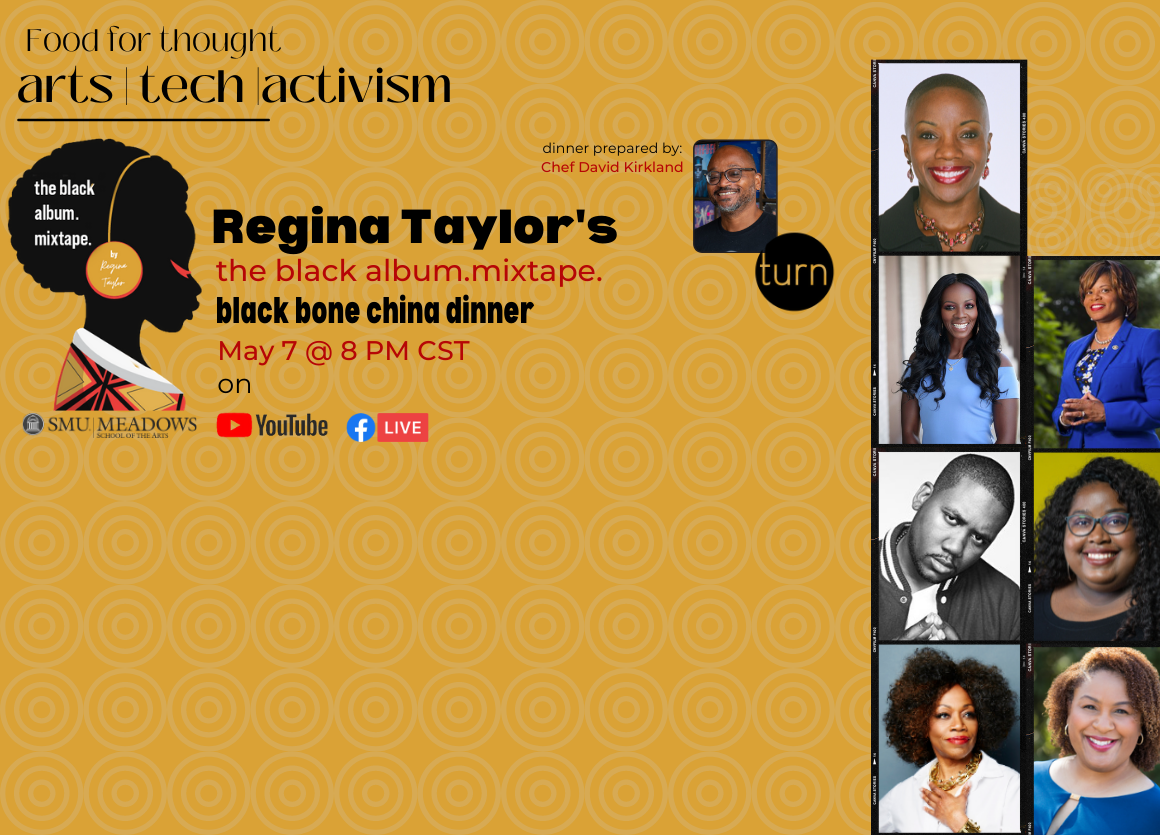 the black album. mixtape. dinner.
A black bone china dinner and discussion presented by Regina Taylor
To view on YouTube click HERE
Trailer (below)
the black album. mixtape. dinner. is a pre-recorded virtual experience inspired by Regina Taylor, The Rep's Andrew W. Mellon Foundation Playwright-in-Residence, that brings together St. Louis community leaders to discuss the intersectionality of the Black experience with the impact and reality of COVID-19. During the event, participants embark on an array of conversations - on topics including arts, activism, politics and technology - as they converse over a meal built as food for their souls. Dinner guests include Rebeccah Bennett, Shay Gillespie, Senator Jamilah Nasheed, Tef Poe, Kayla Reed, Regina Taylor and Rep Artistic Director Hana S. Sharif. Meals designed and prepared by Chef David Kirkland of Turn.
DINNER PARTICIPANTS

Rebeccah Bennett

Rebeccah Bennett is Founder and Principal of Emerging Wisdom LLC and its subsidiary, InPower Institute. Launched in 2006, Emerging Wisdom is a forward thinking social enterprise that helps individuals live empowered lives, leaders build impactful organizations, and communities advance brighter futures. At Emerging Wisdom, Rebeccah and her team conduct personal and professional development programs, organizational improvement efforts, and social transformation initiatives. Within these focus areas, they provide an array of offerings, including consulting, training, facilitation and planning, coaching and professional speaking. In 2010, Rebeccah opened InPower Institute, a division of Emerging Wisdom that serves as a center for community healing and optimal living. Through InPower, she has formed an alliance of healers, change agents, activists, educators, faith leaders and wellness practitioners who co-create healing spaces that advance both personal well-being and community transformation. Annually, InPower offers hundreds of programs and events that spur human growth, creativity and recovery from trauma. Participants are supported in unleashing their personal power and in using this power to create extraordinary lives and a more just and vibrant world. Through Emerging Wisdom and InPower Institute, Rebeccah has helped tens of thousands of people and countless organizations effect positive change in the areas of organizational and community leadership, economic development, racial equity, public health and safety, environmental sustainability, diversity and inclusion and girls and women's and empowerment. Though her areas of interest and expertise are wide-ranging, her work is singularly focused on elevating the human condition. Rebeccah is supported in this work by corporate, non-profit and government clients, including Anheuser-Busch InBev, Wells Fargo Advisors, Slalom, BJC HealthCare, the IL Department on Aging, the Missouri Foundation for Health, the Deaconess Foundation, Focus St. Louis, the St. Louis Symphony Orchestra, the United Church of Christ, the Urban League of Metropolitan St. Louis, the Ferguson Commission, For the Sake of All, and St. Louis and Hazelwood Public School Districts. In addition to her professional activities, Rebeccah currently serves as Immediate Past Co-Chair of the board of Forward Through Ferguson (the successor organization to the Ferguson Commission) and as Past Chair of the board of Generate Health (formerly the St. Louis Maternal Child & Family Health Coalition).

Shay Gillespie

If energy could be bottled up and sold, Shay Gillespie would be our first black trillionaire! As the Founder and CEO of Color Coded Kids (CCK), a computer programming firm geared towards kids, Shay is responsible for overall strategy and expansion of CCK's current national footprint. In addition, Shay also founded Color Coded Kids Foundation (CCK Foundation), a 501c3 aimed to provide financial assistance for CCK's courses. In the past three years, CCK Foundation has awarded more than $40,000 in scholarships and workshops to students in underserved communities. Shay also founded Color Coded Kids Money, a financial literacy organization, with a mission to teach junior high and high school students money management and wealth-building. If that's not enough, Shay works full-time as central division business development manager for World Wide Technology, covering Fortune 500 corporations in 19 states. Shay is responsible for supporting more than 70 sales reps with their diversity strategy within their client organizations. Shay sits on several boards, Mid-States Minority Supplier Development Council and Color Coded Kids Foundation (board chair). She recently stepped down as a board member of the Down Syndrome Association of Greater St. Louis, aimed to provide programs and funding for families with Down Syndrome family members, including advocating for her own son, Diggy, who was born with Down Syndrome in 2008. Shay has been featured on the cover of Delux Magazine as one of 50 most intriguing women in the St. Louis area and The Spot magazine, a magazine focused on sharing inspiring stories of women. Other awards include Black Tie Community Award, Phenomenal Woman Award, St. Louis American's Salute to Young Leaders Award and Delux Magazine's Power 100. She is also an active member of her sorority, Delta Sigma Theta Sorority Incorporated and served as a chair for more than six years. Shay is also a graduate of several leadership programs including, St. Louis Business Diversity Initiative Fellows program and Focus St. Louis CORO Women in Leadership, Focus St. Louis Diversity Leadership Program and a member of Professional Organization of Women, Regional Business Council and United Way's Young Leadership Society. So where does all her energy come from? At 4:30am every morning, Shay begins her day with nearly two hours of strength training and cardio. Shay resides in St. Louis with her husband, James and two boys, Grant and Diggy (Dylan). Shay's goal is to teach every young person in the world, regardless of economic status, how to be financially independent be it through career or personal finance.

Chef David Kirkland

David Kirkland is the owner and executive chef of Turn Restaurant and David Kirkland Catering located midtown in the .Zack Arts Building. Kirkland believes food and music brings people together. Turn Restaurant is a merge of Kirkland's DJ life and his passion for cooking. His philosophy of cooking is compared to mixing beats and sounds; you layer and blend each sound to create new experiences which is the same as mixing flavors and textures in the kitchen. Each menu is designed with a honed farm-to-table philosophy that emphasizes relationships with local farmers. Utilizing fresh grown vegetables and flavors, Kirkland works closely with the region's growers and farmers to plan for each season and to promote sustainability in the St. Louis restaurant scene. Turn presents comfort classics and puts a fresh spin on each dish. He began his career in the early-1990s, bouncing from Catering St. Louis at the Café at St. Louis Art Museum, Frazier's Brown Bag, to Venice Café. Kirkland learned everything he could from some of the city's best. In 1996, he moved to San Francisco, and began focusing on his music interests, becoming a resident DJ at several clubs throughout the city. However, he never lost his love for the culinary arts, cooking for friends and family and exploring the area's now famous farm-to-table approach to food. After moving back to St. Louis, Kirkland returned to the kitchen with a mission, taking the helm at Café Osage in 2007. He opened Turn Restaurant and David Kirkland Catering in Spring of 2016. Turn combines all of Kirkland's passions. Turn's dishes are at once seasonal yet consistent. Kirkland mixes flavors just as he mixes beats - with artistry and respect.

Senator Jamilah Nasheed

Senator Jamilah Nasheed is a Democrat representing Missouri's 5th Senatorial District in the City of St. Louis. Sen. Nasheed's district includes some of Missouri's most iconic treasures: The Gateway Arch, St. Louis University, Busch Stadium, The Missouri Botanical Gardens, The Fox Theatre, Soulard Market and Downtown St. Louis. Sen. Nasheed is widely recognized as a legislative leader on several issues including education, criminal justice, human rights, and urban economic development. At the age of 19, Sen. Nasheed opened Sankofa Books and Gifts, an inner-city bookstore, with the mission of promoting reading and meaningful discussion. After 10 years as a small business owner, Sen. Nasheed sold her bookstore and decided to run for office. In 2006, she was elected to the Missouri House of Representatives, where she quickly earned a reputation for working with colleagues on both sides of the aisle to accomplish her agenda. During her first term in 2008, Sen. Nasheed passed House Bill 2191, a pioneering piece of legislation that ensured the benefits of the A+ Scholarship Program for high school students in Missouri's unaccredited school districts. As a result of HB 2191, thousands of St. Louis students became eligible for free tuition to two-year colleges and technical schools. During her time in the Missouri House, Sen. Nasheed was the only minority party committee chairperson serving as Chairwoman of the House Urban Affairs Committee. After winning her primary in August 2012, Sen. Nasheed began serving in the Missouri State Senate in January 2013. During her first session in the Missouri Senate, Sen. Nasheed passed SB 125, which ensured that all Missouri students have the right to high quality teachers. In 2014, Sen. Nasheed worked successfully to pass two landmark pieces of legislation. SB 532 allows a relative-caregiver the right to make medical and educational decisions for a minor in their custody. Senate Bill 731 helps preserve St. Louis neighborhoods by expanding the definition of "nuisance" to include absentee landlords who allow vacant properties to harm the value of neighboring properties. During the First Regular Session of Missouri's 98th General Assembly, Sen. Nasheed furthered her reputation as an effective law maker by passing five bills, more than any other Democrat in the state house. Among them, SB 334 (2015), gave Harris-Stowe State University, one of Missouri's two Historically Black Colleges and Universities, the authority to offer graduate degrees for the first time in its 150 year history. Sen. Nasheed joined forces with colleagues from both sides of the aisle, and in both chambers, as a co-sponsor of SB 5 (2015). Widely touted as the most comprehensive municipal court reform bill in decades, SB 5 bars many of the systematically oppressive practices that had targeted Missouri's most vulnerable citizens for generations. Also during the 2015 session, Sen. Nasheed passed legislation that established January as Sex Trafficking Awareness Month in the State of Missouri. In addition to her legislative responsibilities, Sen. Nasheed also serves as President of the Junior Class Parents' Association at Cardinal Ritter High School. Sen. Nasheed is a founder of the "In it 2 Win" Coalition, which identifies students who have dropped out of school, or were pushed out, and assists in returning them to the classroom. She is also active in the Fresh Start Program, which assists youth between the ages of 17 and 21 to return to the classroom to earn their high school diplomas. Sen. Nasheed has also been active in the A+ Schools Program and Inspire STL. She is a member of the Order of the Eastern Star fraternal organization. In 2009, Sen. Nasheed studied human rights and international law in India as a member of the American Council of Young Political Leaders, a prestigious international exchange program. Sen. Nasheed's awards and recognitions include: The YMCA- Social Responsibility Award (2013); MOKAN's Public Sector Executive of the Year (2014); The Missouri Workforce Housing Association-Senator of the Year (2014); St. Louis Bar Association-Spirit of Justice Award (2014); Missouri Bar Foundation- Legislative Award (2015); Missouri Community College Association- Distinguished Legislator Award (2015); and the St. Louis Regional Chamber-Champion Award (2015).

Tef Poe

Tef Poe, born Kareem Farrakhan Jackson, is an African American emcee, educator, and entrepreneur, from St. Louis, Missouri. He is a celebrated Nasir Jones Harvard University Hip Hop scholar, Harvard University American Democracy Fellow and Co-Founder of Harvard's Commonwealth Project. In 2019 Tef Poe was declared a United States cultural Ambassador to the country of Jordan. Shortly afterwards he travelled overseas to Amman Jordan as a United States Diplomat to the Middle East region. He has worked in countries such as Palestine, Brazil, and the United Kingdom. He also represented St. Louis at the United Nations in Geneva, Switzerland. Poe has released an oasis of music and is currently signed to the New York based label Tommy Boy Records. Tef Poe burst onto the national activism scene through the front lines of Ferguson, Missouri. His work surrounding the push to achieve justice after Mike Brown's death is featured in the award-winning documentary (available on Netflix and Hulu) Whose Streets. Poe is currently a creative lead with Black Men Build where he works alongside Phillip Agnew and several other notable Black Male activists. He has also made appearances on CNN, MSNBC, and BET as a political commentator. During Barack Obama's final term in office, his cabinet personally invited Poe to the White House to meet the president. Tef Poe's music carries anecdotes of political savviness and a heightened richness in contemporary trap sounds. His latest album "Black Julian 3" is currently revered as a cult classic. The project features interludes and spiritual poems from his mentor the great Dr. Cornel West. Tef Poe has shared stages with the likes of Nipsey Hussle, Talib Kweli, Mos Def, Rakim, Stevie Wonder, Robert Glasper, Harry Belefonte, John Legend, Common, Rosario Dawson, Danny Glover, Janelle Monae and many more.

Kayla Reed

Kayla Reed (she/her) is a Black queer feminist organizer and strategist from St. Louis, Missouri. Kayla is the co-founder and Executive Director of Action St. Louis, a grassroots racial justice organization founded after the 2014 Ferguson Uprising that works to build Black political power. In her role, she has led campaigns that have resulted in the election of progresive Black candidates throughout the St. Louis region and led issue campaigns around housing, voting rights and the criminal legal system. Kayla is also a lead strategist in the Movement for Black Lives, where she co-founded the Electoral Justice Project (EJP), a national campaign of the Movement for Black Lives, that seeks to challenge electoral injustice, expand and mobilize the Black electorate and strengthen the capacity of Black-led organizations building power across the U.S.